New to Community of Faith? Here's what to expect:
On Sunday mornings come prepared for friendly people, good coffee, and a lively worship service. Rev. Sharon preaches on lectionary texts  arranged according to the church year and music and prayers are chosen and written to flow with the texts of the week.  The choir, led by Joanna, offers a wide range of musical styles. Communion (also known as Eucharist or the Lord's Supper) is celebrated on the first Sunday of every month and on special days of the church year; Communion celebrated each week during Advent and Lent. The order of worship includes time for prayer and song, confession and reconciliation, greeting one another and the sharing of joys and concerns.
As Jesus welcomed the children, so are children of all ages welcome in our community. Young children may stay in worship with their parents or parents may sit with them in our narthex, where the service can be seen and heard. Children 3 and up attend church school each week during worship, leaving the service after the Choir Anthem  (with the exception of Communion Sunday, which is the first Sunday of each month, when they stay for the entire service.) A KidZone is located in the back of the sanctuary with quiet activities for kids to take part in while listening to the worship service. In the church school we currently use the "Growing in Grace and Gratitude" curriculum.
At Community of Faith there are people of all kinds doing all kinds of things outside, in the building, in the community and in the world.
At COF you can
-Use the large paved area for walking or running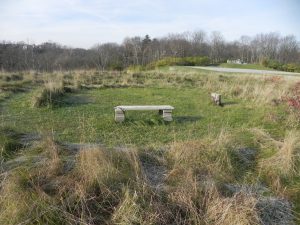 -Play or picnic on our beautiful lawn (and coming soon– a new natural playground!)
-Walk the meditation labyrinth that has been mowed into the natural grasses of the area
-Take in the beautiful view of downtown Cincinnati from the rear patio
-Use the Mid-Century Modern building for your next event. The building features a large worship/ lecture space upstairs, classrooms, and a large fellowship hall and kitchen with a beautiful view of downtown Cincinnati.
Everyone can take part in
–Worship on Sundays at 11:00 am (childcare provided mid-way through the service)
-Communion on the first Sunday of the month
-A talented choir which leads worship weekly and practices on Wednesdays@ 7 pm, September thru May
-Sunday School @ 9:40 am, studying a social justice issue or current event
-Special worship services on Christmas Eve, Ash Wednesday, Maundy Thursday, Easter, and Pentecost; plus an annual "Blessing of the Animals" event
-Special annual gatherings such as the Church Birthday party, Ice Cream Social, Fireworks Party, Family Night, and Christmas Tea
We share with our community and the world through
-ministry with Nicaragua partners
–bicycle ministry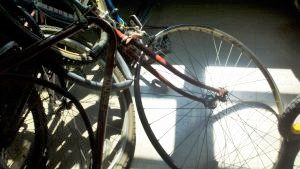 -partnership with Union and Crescent Springs Presbyterian Churches and the Cornerstone Project preparing and serving a meal to the Covington community
-Children of Ludlow After School Program (CLASP)
-donations to Be Concerned and Covington Partners in Covington
-sharing our space with the SPARK Homeschool Cooperative