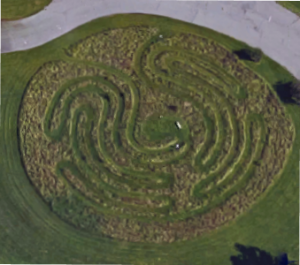 Our lovely grounds include a natural Meditation Labyrinth that is kept mowed all year into the natural grasses of the front lawn. Visitors are welcome to visit and walk through the labyrinth and spend time on the meditation bench at its center. The Labyrinth was dedicated by the congregation as part of the worship service Sunday, June 29 2008. It was created and is maintained by church member volunteers.
The particular design of this labyrinth is called a "Baltic Wheel". Our labyrinth has a single path to its center where you'll find a bench and a shorter, direct exit from the center. In the case of the labyrinth at Community of Faith church, the design is approximately 120 feet in diameter and entirely mowed from high grass, leaving a natural and pleasing environment for the walker.
A labyrinth is a spiritual tool that mimics the journey of the ins and outs of everyday life. As you walk the path takes you from outer paths to inner paths nd back again until the center is reached.
During your walk around the labyrinth try repeating a word or phrase that has meaning for you. For example, you might repeat "Be still and know that I am God." Or simply, "Lead me, O God." Pay attention to the physical sensation of walking, as if each step you take is a prayer of its own.  Feel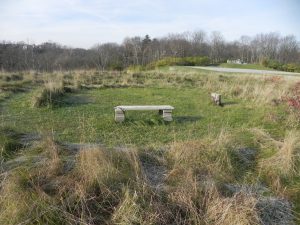 the beat of your heart. Allow your mind to be at peace.
Being an outdoor labyrinth, the wonder of God's creation is on display all around you as you walk. From butterflies and flowers in the summer to snow in the winter each season has something special to offer in your labyrinth journey. Smell the grasses and feel them brush your body as you walk through. Hear the insects and birds. Watch for deer as they pass through our property.
When you get to the center, take a moment to sit on the meditation bench and rest in God's presence for a while. When you are ready, a simple path takes you to the outside of the labyrinth.
Have you visited our Labyrinth? Leave a comment and let us know how your experience was!