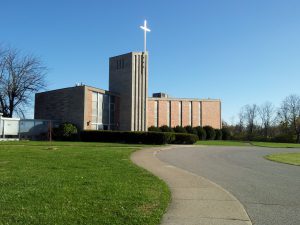 The COF building is a wonderful mid-century modern design built in the early 1960s, and sits on a partially wooded 7 acre site with a lovely view of downtown Covington and Cincinnati.
Our building is available to rent for weddings, birthday parties, and other gatherings. Our downstairs gathering space holds up to 150 people and is fully glassed on the side overlooking Cincinnati. It has a fully-equipped kitchen 2 ranges, 2 refrigerators, a sink with disposal, and dishwasher.
We are a No Alcohol and No Smoking facility.
*Please see our building use fees here.
*Please see our church use contract here.